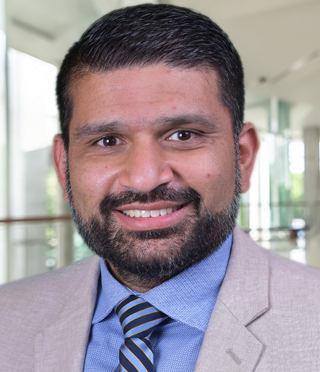 Dr. Patel chose nephrology because of the complexity of the patient. The best mentors that he had in residency were nephrologists. This also influenced him to pursue a career in nephrology. Renal disease can be a life-altering diagnosis. Being a nephrologist gives Dr. Patel the opportunity to make a difference in someone's life.
His most common procedures include:
Dialysis
Plasmapheresis
Insertion of temporary and tunnel dialysis catheters
Graft and fistula angiograms
Graft and fistula thrombectomies
Vein mapping
Dr. Patel considers himself to be down-to-earth, easy to get along with, and relatable. In his free time, he enjoys exercising, traveling, watching sports, and spending time with his family.
---
Primary Location(s):
Lebanon Office
Middletown (Atrium) Office
West Chester (Liberty) Office
West Hamilton Office
Professional Title:
Medical Director Davita West Chester Hemodialysis
Past member – Davita Physician Leadership Council
Board Certification:
Nephrology; Internal Medicine
Fellowship:
University of Louisville
Residency:
University of Louisville
Medical School:
Ross University
College:
Emory University
Professional Associations:
The American Society of Nephrology
American Society of Diagnostic and Interventional Nephrology