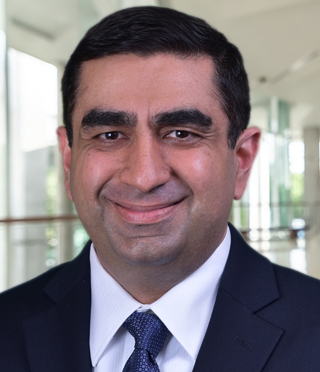 Kidney disease is near and dear to Dr. Butt after being exposed to the field at a young age in college for a research study where he studied how patients utilize their time while on dialysis. Now, he looks forward every day to working with his patients. Helping patients improve their overall health and reach their goals is one of the most exciting aspects of his job. Working in a community-based setting has allowed him the opportunity to focus on patient care at a level that he would not be able to do anywhere else.
Dr. Butt's most common procedures are Hemodialysis, Peritoneal dialysis, & Continuous Renal Replacement Therapy. He enjoys working in a team setting and hearing viewpoints on different issues. Input from his colleagues, nurses, dieticians, pharmacists, social workers, and patients inform how he practices medicine and tailors his approach to the individual needs of the patient. Finding new and thoughtful approaches to his patients' questions helps Dr. Butt both grow as a physician and improve his practice.
Medicine is a continuously evolving field. With better research and treatment options, the answers are always changing. Dr. Butt believes that is up to him and physicians like him to be life-long learners and be ready to question the status quo.
In his free time, Dr. Butt enjoys spending quality time with his family, exercising, traveling, and watching movies.
---
Primary Location(s):
Anderson Office
Clermont Office
Eastgate Office
Professional Titles:
Physician Leadership Committee, Mercy Anderson
Clinical Order Set Committee, Mercy Anderson
Critical Care Committee, Mercy Clermont
Compliance Committee, Mercy Clermont
Board of Directors, The Kidney and Hypertension Center
Compliance Committee, The Kidney and Hypertension Center
Mentoring Program for New Physicians, The Kidney and Hypertension Center
Board Certification:
Nephrology; Internal Medicine
Fellowship:
Cleveland Clinic
Residency:
MetroHealth/Case Western Reserve University
Medical School:
The University of Toledo College of Medicine
College:
Case Western Reserve University
Professional Associations:
American Society of Nephrology
Renal Physician Association
Professional Awards:
Cincinnati Top Doctors (Cincinnati Magazine)
Phi Beta Kappa
Additional areas of clinical expertise, training, subspecialty certifications, or interests:
Glomerular disease, Hypertension pathogenesis, prevention of Chronic kidney disease progression, & use of home dialysis modalities
Patient Reviews
Warm office environment with very professional nurse and staff. Dr. Butt was very personable, thorough, and instilled full confidence in his expertise, offering a viable plan of care as a solution.
Very pleased. Staff is very helpful and courteous. Leslie is so helpful and kind. Dr. Butt is very professional. He is kind and caring. Doctor explains everything and is very patient.
I am very happy with Dr. Butt and feel that I am in good hands.
He always takes his time to listen to me and explains everything in a way that makes it easy to understand. - I highly appreciate him and his team. Thank You!