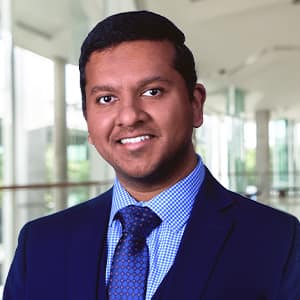 Moarij Qazi, MD
Dr. Qazi started his pursuit of medicine at Army Medical College, one of the best medical schools in Pakistan. He always welcomes all forms of scholarly experiences and believes in learning from the experiences of others. Since medical school, he has tried to build his clinical acumen by rotating in various departments in the finest institutes in the world, including the United Kingdom and the United States. Having noted the framework of both the infrastructure savy and limited areas, he incorporates in his practice the judicious use of resources to get the best results for his patients while keeping in mind the importance of psychological and financial burdens to them. His quest for knowledge landed him at the University of Nevada, Las Vegas, for his internal medicine residency, where he was named the STAR resident of the year. He further went on to realize his dream of nephrology fellowship training at one of the top kidney institutes in the world at Cleveland Clinic Hospital Ohio.
His inclination to nephrology stems from his love of numbers and biology. He gravitates to the mathematical and analytical side of Nephrology. He strives to fight against kidney failure, advocating for the prevention and preservation of kidney function to the utmost. He ensures that his patients know that he is in their corner throughout this battle with kidney disease. Dr. Qazi is particularly interested in the management of electrolyte abnormalities and chronic kidney disease, having worked and done review projects on magnesium physiology and diabetic kidney disease during his training.
In his spare time, Dr. Qazi loves to travel with his family. His goal is to explore a new country every year. He is also a swimming enthusiast and loves summers.
Primary Location:
Board Certification
Internal Medicine board certified
Fellowship
Cleveland Clinic Foundation, Ohio
Residency
University of Nevada, Las Vegas
Medical School
Army Medical College, Pakistan
Professional Associations
Professional Awards
Scholarship in all years of medical school – STAR resident of the year 2016