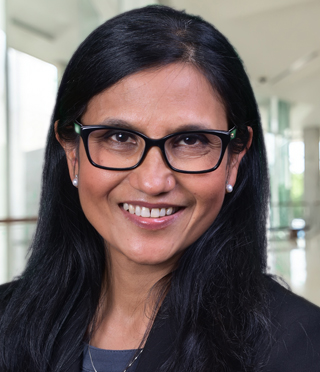 Dr. Patel-Chamberlin first became interested in nephrology in medical school. She was very fascinated by the complexities of kidney physiology. It has many functions from regulation of fluid and electrolytes, blood pressure, bone health (by activating vitamin D), stimulating blood cell production to list a few. She also learned early on during her training that nephrology is one of the few specialties where you have an opportunity to build a long-term relationship with patients and their family members. From the day of the first encounter to the time when dialysis is initiated, a nephrologist is there every step of the way helping patients navigate through the arduous process of dialysis planning.
Unlike end-stage liver disease or end-stage heart disease, where transplant is the only definitive treatment, patients with end-stage kidney disease can live on dialysis till they can be safely transplanted.
Nephrology is one of the few subspecialties that integrate knowledge from many areas of medicine to provide holistic care to patients.
Dr. Patel-Chamberlin's most common procedure is temporary dialysis catheter insertion.
Dr. Patel-Chamberlin loves the great outdoors. Hiking is one of her favorite activities. She also enjoys cooking, particularly plant-based food. Her passion is to educate as many people as she can about the benefits of a whole-food, plant-based diet for overall health.
---
Primary Location(s):
Fairfield Office
Mercy West Office
Montgomery Office
Board Certification:
Internal Medicine; Nephrology
Fellowship:
Research Fellowship at Harbor-UCLA Medical Center
Clinical Fellowship at University of Cincinnati Medical Center
Residency:
Harbor-UCLA Medical Center, Los Angeles, CA
Medical School:
The Chicago Medical School, Chicago, IL
College:
University of California, Los Angeles
Professional Associations:
American Society of Nephrology
Professional Awards:
Alpha Omega Alpha – Honor Society Inductee
Glasgow Memorial Citation for Women Graduating in the top 10%
Additional areas of clinical expertise, training, subspecialty certifications, or interests:
Plant-based Nutrition certified