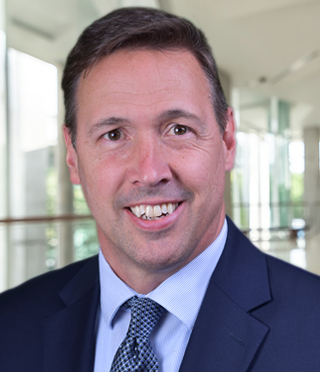 Dr. Hergenrother excels at managing patients with Acute Kidney Injury, Electrolyte Disorders, Chronic Kidney Disease, and End-Stage Kidney Disease. He understands that patients with kidney disease require ongoing management that can be difficult for them.
Dr. Hergenrother views his relationship with patients as a long-term conversation to help them increase knowledge and understanding of their disease. Dr. Hergenrother enjoys getting to know his patients and helping them negotiate the trials that come with having a chronic disease.
---
Primary Location(s):
Mount Auburn (Christ) Office
Professional Titles:
Section Chief of Nephrology at The Christ Hospital
Fellow of the American Society of Nephrology (FASN)
Board Certification:
Nephrology
Fellowship:
Emory University
Residency:
Christ Hospital
Medical School:
Northeast Ohio Medical University
College:
Marquette University
Professional Associations:
American Society of Nephrology
Renal Physicians Association
Professional Awards:
Teaching Award from Internal Medicine Residents at The Christ Hospital
Teaching Award from Family Medicine Residents at The Christ Hospital
Top Physician, Nephrology. Cincinnati Magazine
Patient Reviews
Dr Hergenrother, Kim and the Ladies behind the glass are ALWAYS kind, patient, respectful, knowledgeable & informative. Dr. John Hergenrother is all if the above and he explains in understandable terms, the what and why to my care.
I've been going to the kidney and hypertension center for nearly two decades. Would highly recommend. Dr. Hergenrother is thorough, explained results well and always remembers to ask if you have any questions. Great doctor.
My experience at the Kidney and Hypertension Center at Christ Hospital has been nothing but outstanding. A little over seven years ago, I was diagnosed with Chronic Kidney Disease Stage 3 right after I retired from my 30 year teaching career. My disease is hereditary with high uric acid levels that cause stones. I thought I was given a death sentence and would not be able to enjoy my retirement. It was then, that I was referred to Dr. John Hergenrother, nephrologist. Dr. Hergenrother and his staff are so understanding and compassionate. Dr.Hergenrother made me feel at ease. He has explained in detail my diagnosis ,reviewed my bloodwork with me and given me plans of action in order to keep my disease stable. With modifications to diet, exercise and medication, I don't feel as anxious and that I can enjoy the rest of my life. I highly recommend Dr. Hergenrother and staff at the Christ Hospital Kidney and Hypertension Center.