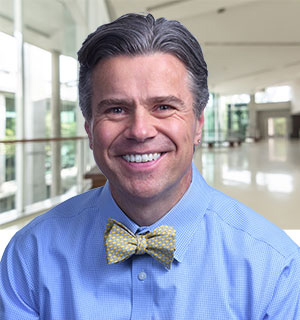 While in medical school, Dr. Davis had mentors that were all nephrologists. Finding them to be the most astute clinicians and holding them in the highest regard, Dr. Davis chose to specialize in that field as well. To this day, he holds himself to the highest standards and strives to emulate their professionalism.
What sets Dr. Davis apart is his willingness to listen to everything his patients have to say. He also possesses a dogged determination to finish cases, whether in the procedure room, ICU or the office. His most common procedures are dialysis vascular access procedures, angioplasties, maturation procedures, and thrombectomies. 
In and outside of the office, Dr. Davis has a deep-seated dedication to underserved patients. While practicing in Missouri as Associate Professor of Medicine for Washington University, he became a Missouri Notary and organized and carried out multiple voter registration drives and assisted with ballot certification and collection. He is a believer that all deserve to have their voices heard. A fun fact about Dr. Davis is that he is a motorcycle enthusiast and will ride in just about any type of weather.
---
Primary Location:
Edgewood Office
Florence Office
Southgate Office
Professional Titles:
Associate Professor of Medicine, Washington University School of Medicine 
Board Certification:
Internal Medicine; Nephrology
Fellowship:
University of Cincinnati
Residency:
University of Cincinnati, Internal Medicine and Pediatrics
Medical School:
University of Kentucky
College:
Morehead State University
Professional Associations:
American Society of Nephrology
Additional areas of clinical expertise, training, subspecialty certifications, or interests:
Interventional nephrology, dialysis vascular access, healthcare disparities, and underserved communities.
Patient Reviews
I have no complaints everyone is very respectful and helpful. Dr. Davis is wonderful. He listens to what you have to say. He answers your questions. He discusses your care with you. He is very upbeat. I would definitely recommend them.
Dr. Davis was very professional and amicable. He spent a lot of time with me and I felt he was fully aware of my case history and the best program for my kidney health. I am so happy to have him as my nephrologist.
James Davis has been ablessing for me. Ifound out that Ihad stage 3B kidney failure that has moved into stage 4 over the year. He has went out of his wayt o makesure Iam well taken care of. The few times that Ineeded something he had taken care of it or has is MA take care of itright away. Ihave never had to wait. I strongly suggest him to all myfriends and family that might be looking for a dr to g i v e this man a chance. You will be pleased with the outcome.