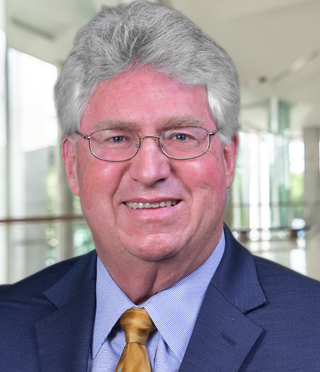 Professionally, Dr. Albers was attracted to nephrology due to his interest in physiology, especially kidney physiology. However, he had a unique perspective in that his father was a hemodialysis patient in the 1970s. Living with and helping a family member with kidney disease made Dr. Albers particularly empathetic to the difficulties patients face with this disease: he was both comfortable with the disorder and wanted to help kidney patients even before his
professional training.
Dr. Albers' experience through UC Medical Center and IU Medical Center made him proficient in dealing with complex general medical problems. His time at Duke University Medical Center, both in training and as an assistant professor, expanded his experience in a wide variety of kidney disease and treatments. He further expanded his skills by training as an interventional nephrologist, approaching 20 years of performing procedures on dialysis accesses.
Dr. Albers has a particular interest in dialysis therapy, dialysis access problems, hypertension, electrolyte disorders, and glomerulonephritis (inflammatory disease of the kidney). His time working with his cardiology colleagues in multiple settings has also made him proficient in cardio-renal syndromes.
In his spare time, you may find Dr. Albers out riding his bike on the bike trail or through the countryside. He also plays music: baritone, trombone, and tuba. Perhaps you will see him at Oktoberfest Zinzinnati with his German band, Vereins Musikanten, or over the holidays with Santa's Goody Bag Band, raising funds for children's charities.
---
Primary Location:
Fairfield Office
Middletown (Atrium)
Montgomery Office
West Chester (Liberty) Office
Board Certification:
Nephrology; Internal Medicine; Interventional Nephrology
Professional Titles:
Medical Director: Davita Blue Ash Hemodialysis Unit
Medical Director: Davita Butler County Home Training Dialysis Unit
Fellowship:
Duke University Medical Center
Residency:
Indiana University Medical Center
Medical School:
University of Cincinnati College of Medicine
College:
Xavier University
Professional Associations:
American Society of Nephrology
National Kidney Foundation
American Society of Diagnostic and Interventional Nephrology
American Society of Hypertension
Professional Awards:
Alpha Sigma Nu National Scholastic Honor Society
NKF Research Fellowship
Haskell Schiff Research Award in Nephrology
Invited Lecturer: NIH Workshop on Ischemic Renal Disease
Additional areas of clinical expertise, training, subspecialty certifications, or interests:
Interventional Nephrology