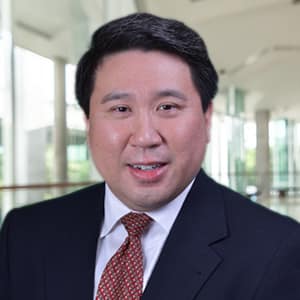 Edward Sha, MD
Dr. Sha chose to specialize in kidneys because he enjoys the combination of being a primary care physician as well as a specialist. Especially in the office, he has the opportunity to see patients and their families over time to get to know them as people and what is important to them. As a kidney doctor, Dr. Sha has the opportunity to learn and understand a specific organ that impacts so many other parts of the body.
His philosophy is that he, his patient, and his medical assistant are a team, working together to improve the patient's health. His role is to provide advice and assistance, sort of like a coach, discussing lifestyle changes and, if necessary, medications.
Dr. Sha believes there is give and take in figuring out what is right for the individual. He and his medical assistant believe in providing patients with the tools and knowledge on how to succeed, so they spend the extra time needed to educate or just to talk and understand what is important to the person.
Primary Location:
Board Certification
Internal Medicine
Nephrology
Fellowship
Indiana University
Residency
Indiana University
Medical School
Northwestern University
College
Johns Hopkins University
Professional Associations
The American Society of Nephrology
Professional Awards
2019 Mercy West Hospital's Outstanding Physician Award
Additional areas of clinical expertise, training, subspecialty certifications, or interests
Interest in acute kidney injury
Kidney stones
Polycystic kidney disease