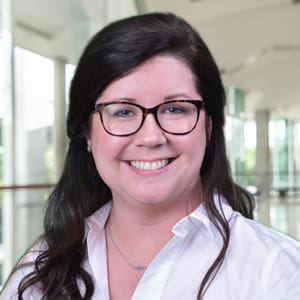 Samantha Brady, APRN
Samantha started working on the renal transplant floor in 2012 as a PCA, then as an RN, and has since worked with the Kidney and Hypertension Center as an NP. She has a family member with CKD, which further increased her interest in the CKD population. She enjoys trying to help patients manage their disease as best as possible without restricting what they enjoy in life.
Samantha helps patients manage diets and meal plans as a PCA and now helps them manage their blood pressure, weight, and labs to get them to the transplant stage if necessary. She enjoys being on the inpatient side of nephrology where she can work with the patient directly.
Outside of work, Samantha enjoys going to the park with her friends and dog. She likes to be outdoors whenever possible to enjoy the nice weather while walking or hiking. She also loves visiting her hometown (Zanesville, OH) on weekends to see her family.
College
The University of Cincinnati
Post College Education/Training
University of Cincinnati
MSN program
Professional Associations
Professional Awards
Daisy Award 2017
Additional areas of clinical expertise, training, subspecialty certifications, or interests