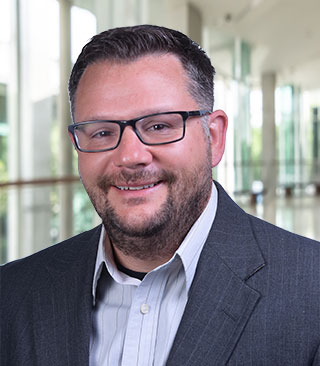 Nick began his career in nursing after his honorable discharge from the United States Air Force and is a disabled Veteran who is an active member of his local VFW chapter. He began working on a Telemetry Medical Surgical Floor in a Rural Hospital in his hometown in Indiana. After a year, he obtained a position working in the Cardiac Surgery Recovery unit providing care for the immediate post-operative patient who had undergone open heart surgery consisting of either a Coronary Artery Bypass Graft (CABG), or a valve replacement. Nick is also trained in multiple aspects of critical care up to and including VA/VV ECMO, CRRT, Impella, IABP, LVAD and RVAD. During that time, he achieved his BSN and ultimately his Master of Science in Nursing with a focus in Adult Gerontology Acute Care Nurse Practitioner, more commonly referred to as an Acute Care Nurse Practitioner (ACNP).
Nick joined KHC in 2021 with responsibilities involving caring for patients in the acute care setting and post acute hospitalization at rehab facilities in Edgewood and Florence area(s), with a focus on caring for patients who have developed acute or exacerbated chronic nephrology issues.
In his free time, Nick, his wife, and their three kids, can be found somewhere in the middle Brookville Lake in the Summer, and in the winter they will be on the hills of Perfect North Slopes where he is a volunteer for the National Ski Patrol and is trained in providing emergency care and first aid to injured ski/snowboarder(s).
---
Location(s):
St. Elizabeth Hospital-Florence
Encompass Rehab
Professional Titles:
MSN, ACNPC-AG
College:
Ivy Tech Community College -ASN
Western Governors University-BSN
Northern Kentucky University-MSN
Professional Associations:
AACN, AMSN
Professional Awards:
ANCC
Additional areas of clinical expertise, training, subspecialty certifications, or interests:
VA/VV ECMO, CRRT, Impella, IABP, LVAD, RVAD